This guide shows you how to automatically send a welcome email to new email subscribers or set up a series of welcome emails to act as an email course.
To set up a welcome email:-
First, click on Noptin > Email Campaigns to open the email campaigns management page.
Next, click on the Automated Emails tab to open the automated emails management page…

… then click on the "New Campaign" button to open the automated campaign creation page.

If this is your first time creating an automated email, Noptin will open the campaign creation page without first opening the campaign overview page.
Finally, click the "Welcome New Subscribers" button to create a new campaign.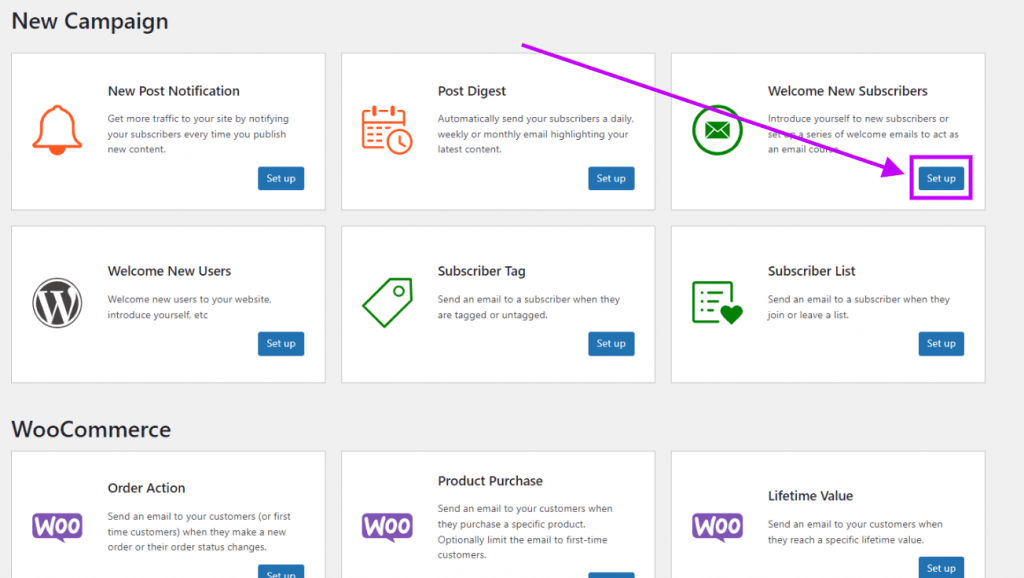 Noptin will open a new screen allowing you to edit and save your campaign.
Noptin does not come with a drag-and-drop email builder. Instead, it allows you to write your email as you would normally write a normal blog post and then style the email using a template.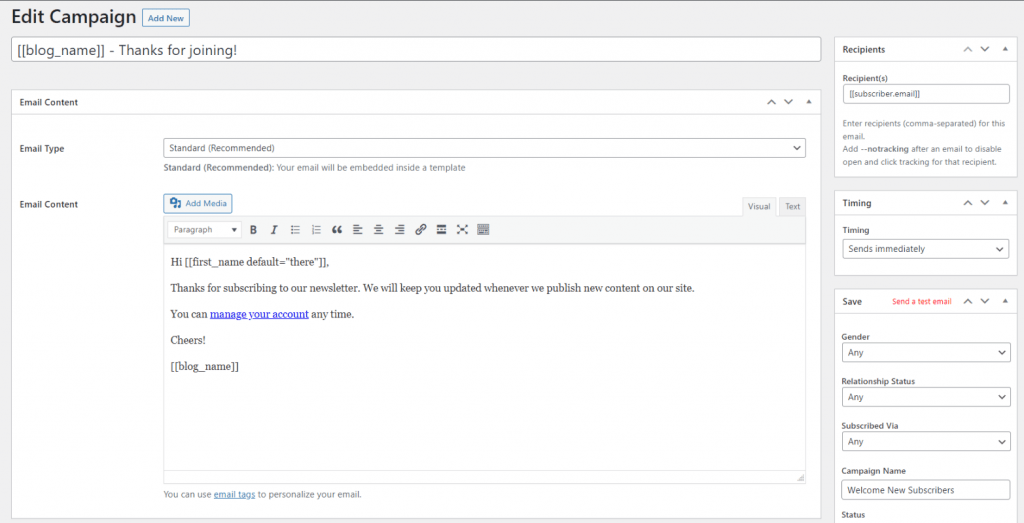 This guide shows you how to create email campaigns using a drag-and-drop email builder.
There are a couple of things that you can edit. This includes:-
The email subject.
The contents of your email.
The recipients. This allows you to send your email to the new subscriber or to anyone else, e.g., the site admin.
The timing of your email. You can decide whether you would like to send your email immediately or wait for a few minutes, hours, or days before sending the email.
You can also limit the recipients of this email to people who subscribed via a specific sign-up form or have particular values for given custom fields.
Here is a sample welcome email that you can set up:-
Hi [[first_name]],

We are so excited to have you on board! We want to take a moment to personally welcome you to our website and thank you for signing up for our email newsletter.

As a new subscriber, you will receive regular updates about our latest products, special offers, and exclusive content. We promise to only send you valuable and relevant information, and we will never share your email address with anyone.

To get started, you can visit our website and browse our products. You can also follow us on social media to stay up-to-date with our latest news and promotions.

If you have any questions or need any help, please don't hesitate to contact us. We are here to support you and ensure that you have the best possible experience on our website.

Once again, welcome to our website! We look forward to getting to know you and sharing our products and services with you.

Best regards,

[Your Name]
[Your Website]