By default, when you send a newsletter campaign, Noptin will send out the email to as many subscribers as it can.
This can cause a problem for those of us who use a shared hosting provider, since most of them have a limit on how many emails you can send per hour.
Since Noptin version 1.4.1, you can now set a limit for how many emails Noptin is allowed to send per hour. To do this:-
Open Noptin > Settings > Emails.
Find the "Emails Per Hour" field and set the maximum number of emails you want to send per hour. You can also leave this field blank if you want to send as many emails as possible.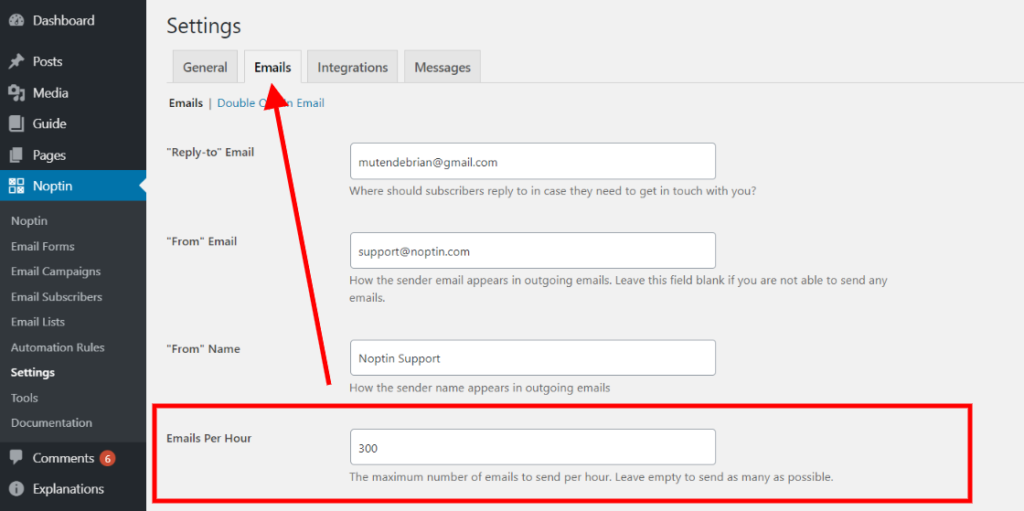 Email Sending Limits by Web Host
For reference, we're compiling a list of limits imposed by some of the most popular hosts.
Web Host | Email Provider
Sending Limits
1and1
Servers: 6 emails per minute
Unlimited Pro: 3500 emails per hour
20i Stackmail
8,000 emails per day
A2 Hosting
100 emails per hour
AccuWeb
500 emails per hour
All-Inkl.com
1000 emails every 10 minutes
BlueHost
500 emails per hour
Charter
50 emails per hour
Comcast
Residential customers: 1,000 emails per day
Business customers: 24,000 emails per day
DomainFactory (df.eu)
500 emails per hour with Sendmail
1000 emails per session with SMTP
DreamHost
100 emails per hour
Free.fr
100 emails per hour
FrogHost.com
1000 emails per hour
Gmail
500 emails per day
Google Apps
100 emails per hour
500 emails per day
GoDaddy
250 emails per day on regular hosting
1000 emails per day on dedicated/virtual servers
Goneo
250 emails per hour
GreenGeeks
100 emails per hour
hawkhost.com
2000 emails per hour
Hivetec
80 emails per hour
Homestead
10 emails per second
Host Gator
500 emails per hour
Host Monster
500 emails per hour
Hosting 2GO
50 emails per 15 minutes
Hostinger
500 emails per hour
Hotmail
100 emails per day
Infomaniak
20 emails per 15 minutes
InMotion
750 emails per hour
iPowerWeb
500 emails per hour
JustHost
150 emails per hour
Lunarpages
Shared Windows Environment: 200 emails per hour
Shared Linux Environment: 400 emails per hour
Dedicated Email Server: No limits
Media Temple
500 emails per hour
Netfirms
200 emails per hour
Netissime
500 emails per 15 minutes
PHPNet
100 emails per hour
PlanetHoster
200 emails per hour
RackSpace
No limits
RoadRunner
1,000 emails per day (per IP)
Rochen
100 emails per 10 minutes
Siteground
400 emails per hour
Site5
500 emails per hour
Synthesis
1000 emails per hour
Techark
250 emails per hour
TVCNet.com
600 emails per hour
VPS.net
200 emails per hour
Webcity
20 emails per 6 minutes
Westhost
1000 emails per hour
wpwebhost.com
200 emails per hour
Verizon
500 emails per hour
Vexxhost
250 emails per hour for shared hosting
500 emails hour for semi-dedicated hosting
Yahoo
100 emails per hour