Ultimate Add-ons Pack
Get access to advanced automation, send mass emails to your WordPress users and customers, and use tags to segment your email subscribers.
Webhooks
You can use webhooks to connect Noptin to any third-party service that allows API access.
Everything is automated and works with all supported plugin integrations including WooCommerce.
The webhooks work well with Zapier.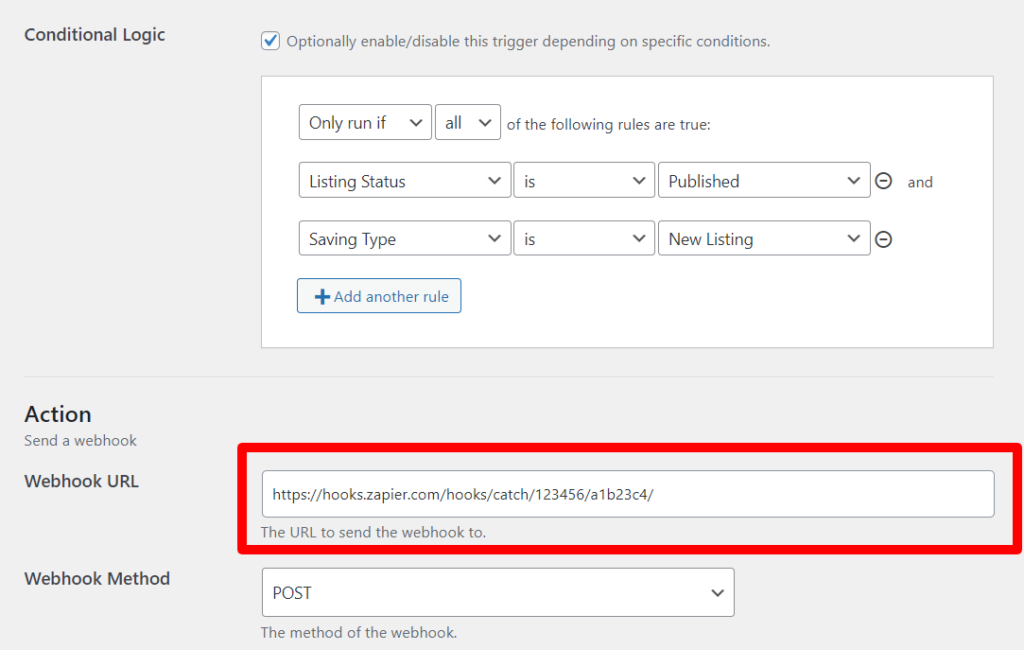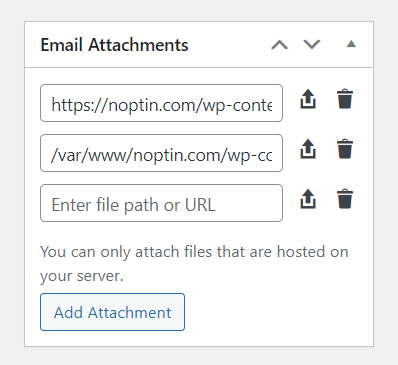 File Attachments
Easily attach any file to any email campaign. You can attach files to one-time newsletters, automated email campaigns, or automation rule emails.
Attachments can be anything from PDFs, spreadsheets, or even videos.
By including attachments in your emails, you can provide your subscribers with additional resources that can help them understand your message better and take action.
Better still, you can use attachments as lead magnets. This way, newsletter subscribers need to provide their email addresses in exchange for access to a given file.
Marketing Automation For WordPress Users
Add new WordPress users to your CRM, send them mass emails, and notify them whenever you publish new content to your site.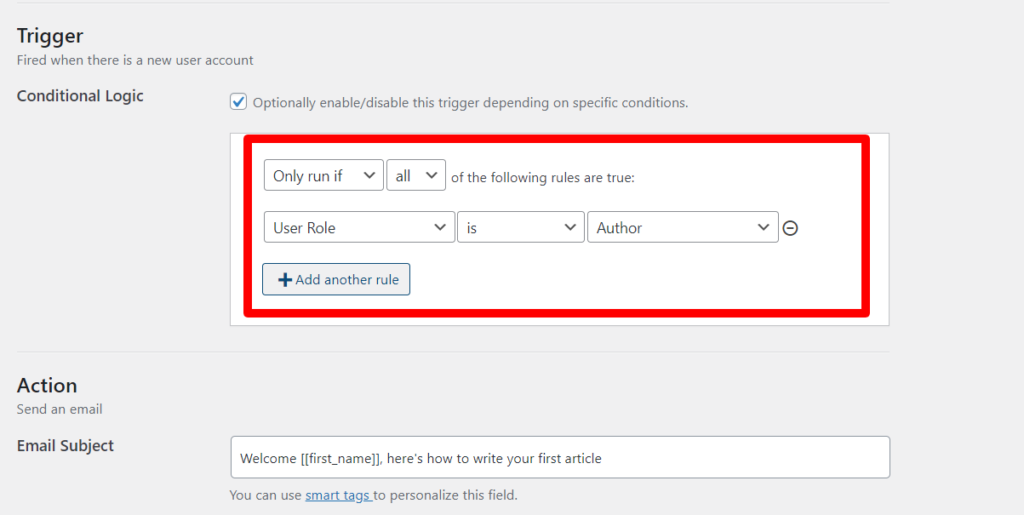 New User Automation
You can create new user automation rules to:-
Automatically add new users to your CRM.
Send welcome emails to new users who have a certain role.
Automatically send new user details to an API endpoint.
Etc.
WordPress Users List
Easily send mass emails to your registered WordPress users.
You can select the user roles that should receive the email and the user IDs that should be ignored.
This is useful if you have sitewide notices, for example, updates to your privacy policy.
You can also set up new content notifications that will automatically notify your WordPress users whenever there is new content on your site.
Automate WooCommerce
Add new customers to your CRM, run automated actions whenever orders are created or updated, generate and send them unique coupons or add the coupons to your CRM depending on what actions they take on your site.
Unique Coupons
You can send your customers/users unique coupons when:-
They subscribe to your newsletter.
Order something on your site.
Are tagged or untagged.
Make their first purchase.
Reach a certain lifetime value.
Create an account on your site.
Etc.
These coupons can be emailed to them, added to your CRM as a custom field, or sent to a webhook of your choice.
WooCommerce Customers List
Easily send your WooCommerce customers newsletter emails or automated new post notifications.
You can filter recipients by:-
Whether or not they are paying customers.
Their billing continent, country, or region.
Their shipping continent, country, or region.
The products they've bought (or haven't) bought.
Their last order date.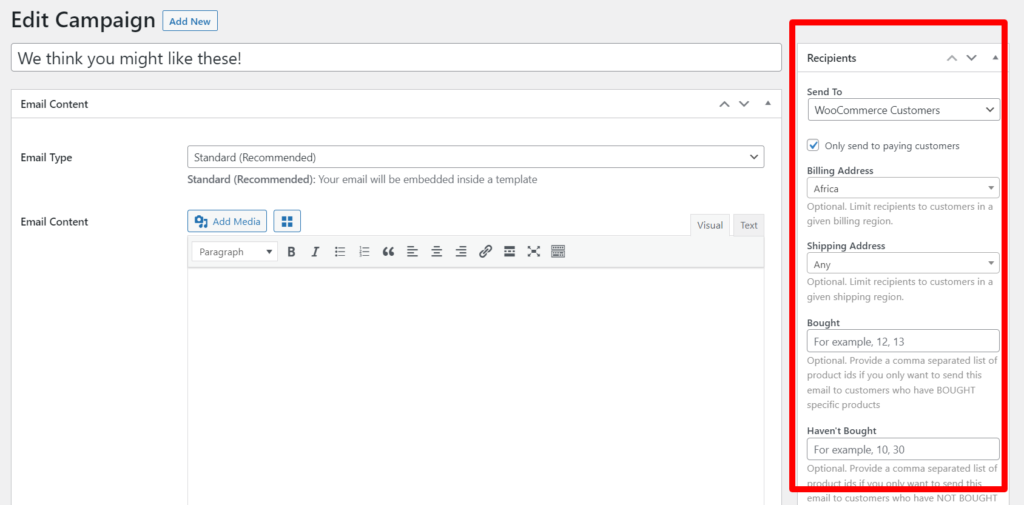 For example,
You can send a promotional email for "Product Y" to all customers from Europe who bought "Product X" and are yet to buy "Product Y".
Segment your Subscribers
Use tags and lists to segment your subscribers and send them highly targeted emails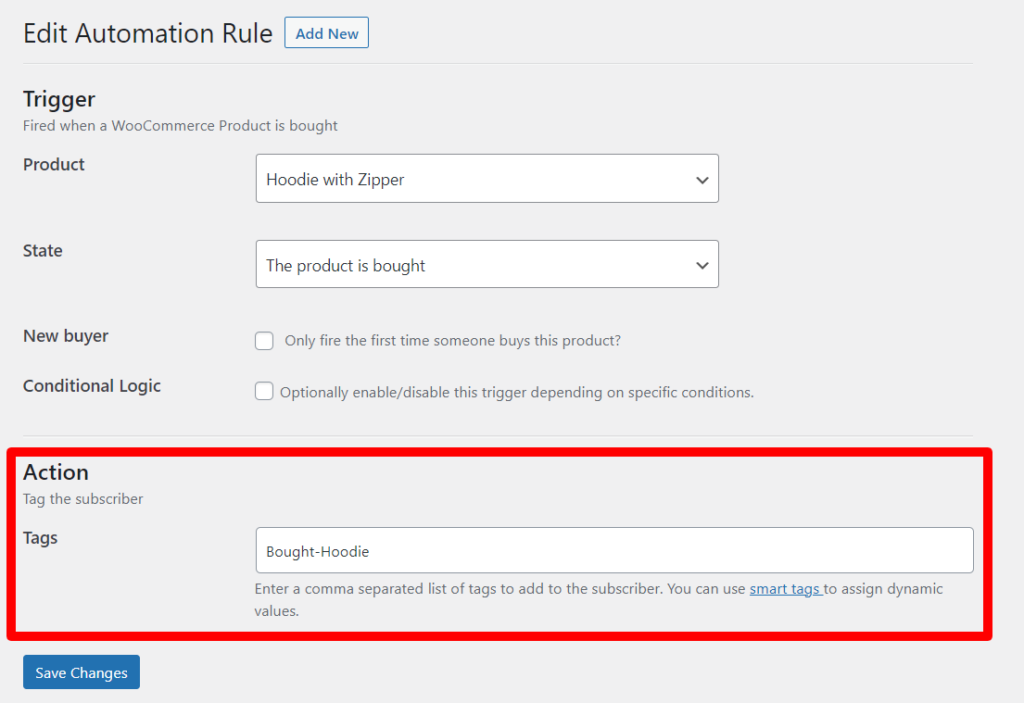 Subscriber Tags
You can tag or untag subscribers similar to how you tag and untag blog posts.
Noptin also allows you to automatically tag or untag your subscribers depending on how they sign up for your newsletter and the actions they take on your site or the products they buy.
You can also set up automated emails that get sent to subscribers whenever they are tagged or untagged.
Finally, you can send emails or new post notifications to all subscribers that have (or don't have) a given tag.
Subscriber Lists
Lists are like WordPress product categories.
A subscriber can join multiple lists and you can send emails to subscribers in specific lists.
You can also set up automated emails that get sent to subscribers whenever they are added or removed from a list.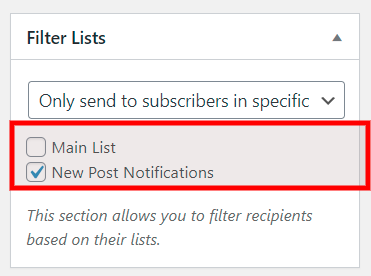 Automated Emails
Send your subscribers welcome emails and send new post notifications for any custom post type.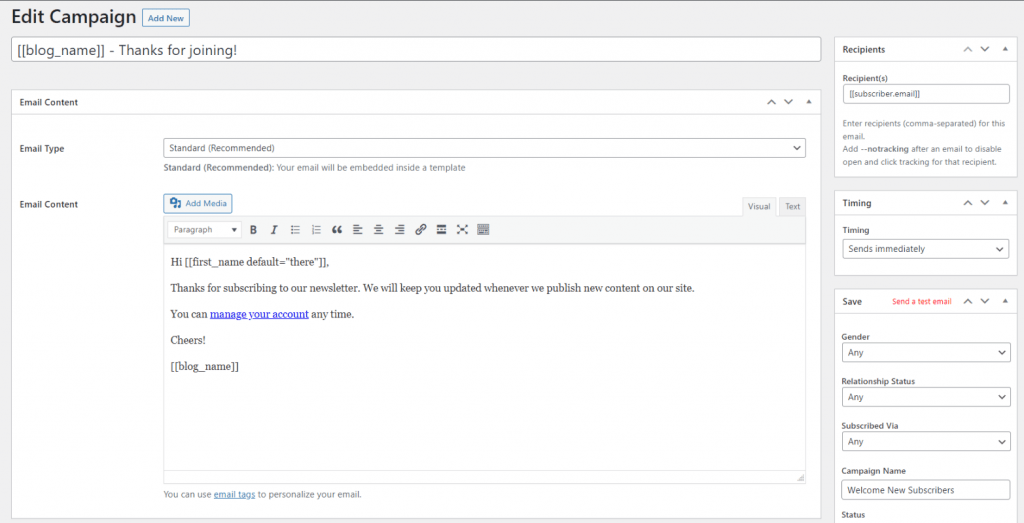 Welcome Emails
You can set up automated emails that get sent to your subscribers after they sign-up for your newsletter or set up a series of welcome emails to act as an email course.
Improved Post Notifications
Send post notifications for any post type on your site, including products, events, listings, etc.