This guide shows you how to install the Noptin newsletter plugin on your site.
Noptin is a free newsletter plugin that allows you to create newsletter subscription forms or add newsletter subscription checkboxes to your existing contact forms, checkout, and user registration forms.
Before you install Noptin, ensure that you are using:-
WordPress version 5.0 or greater.
PHP version 7.0 or greater.
NOTE:
If you are in a legacy environment where you only have older PHP or MySQL versions, Noptin also works with PHP 5.6+ and MySQL 5.0+, but these versions have reached the official End Of Life and as such may expose your site to security vulnerabilities.
Check out the dedicated WordPress web hosts listed here if you need a new web host that meets the above server requirements.
Noptin does not depend on any other plugins. However, it works with the following plugins if you have installed them.
Noptin is installed the same way you install any other free WordPress plugin.
To install Noptin:-
First, log into your WordPress website's admin dashboard then navigate to Plugins > Add New.
Search for "Noptin".
Click Install Now.
After WordPress installs Noptin, click the Activate Now button to activate the plugin.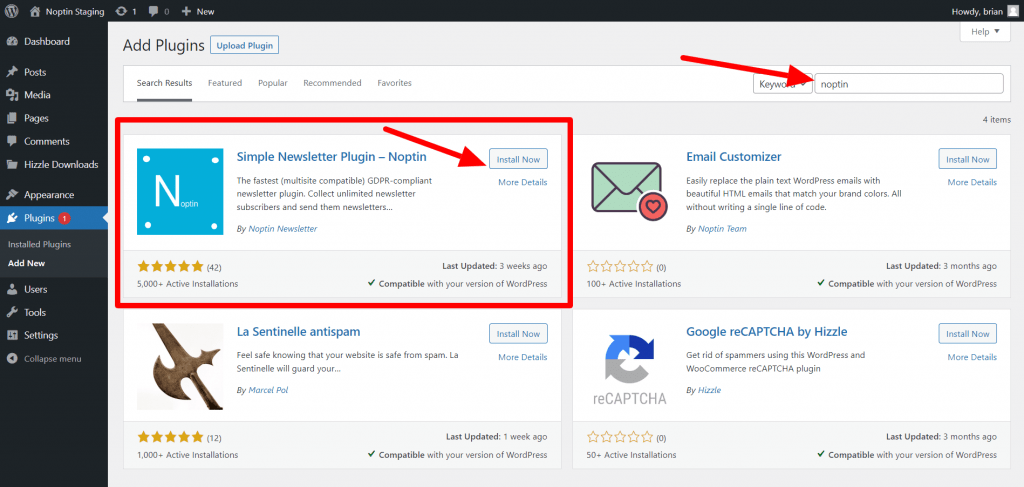 That is all! You have successfully installed and activated Noptin on your WordPress website.
When used on a multisite set-up, each site in the network stores its information in a separate table. This means that each site will have its own subscription forms and newsletter subscribers.
This is will remain the case even if you network-activate the plugin.
Now that you've installed Noptin, you may want to take the following next steps.