This guide shows you how to automatically send your WooCommerce customers review-reminder emails after they purchase something from your store.
For the best results, we'll schedule the email to send out after a few days hence allowing the customers to use your products before leaving the review.
This allows you to:-
Boost customer engagement and loyalty
Increase the chances of receiving positive reviews
Improve product ratings and customer feedback
Encourage repeat purchases and customer retention by including dynamic coupon codes in the review emails.
Enhance the credibility and reputation of your shop since reviews act as social proof.
Get valuable insights into how your customers use products and how to improve them.
Drive traffic to the store's website since the customers have to visit your website before they can leave a review.
Offer customers a convenient way to leave reviews.
Increase the visibility of your products and services in search engines.
Promote customer advocacy and word-of-mouth marketing.
And the best part is, you'll be able to do all this for free, and without writing any line of code.
What You'll Learn
How to set up automated WooCommerce review reminder emails.
How to personalize the emails with your customer's details.
Tips to writing the perfect review reminder emails.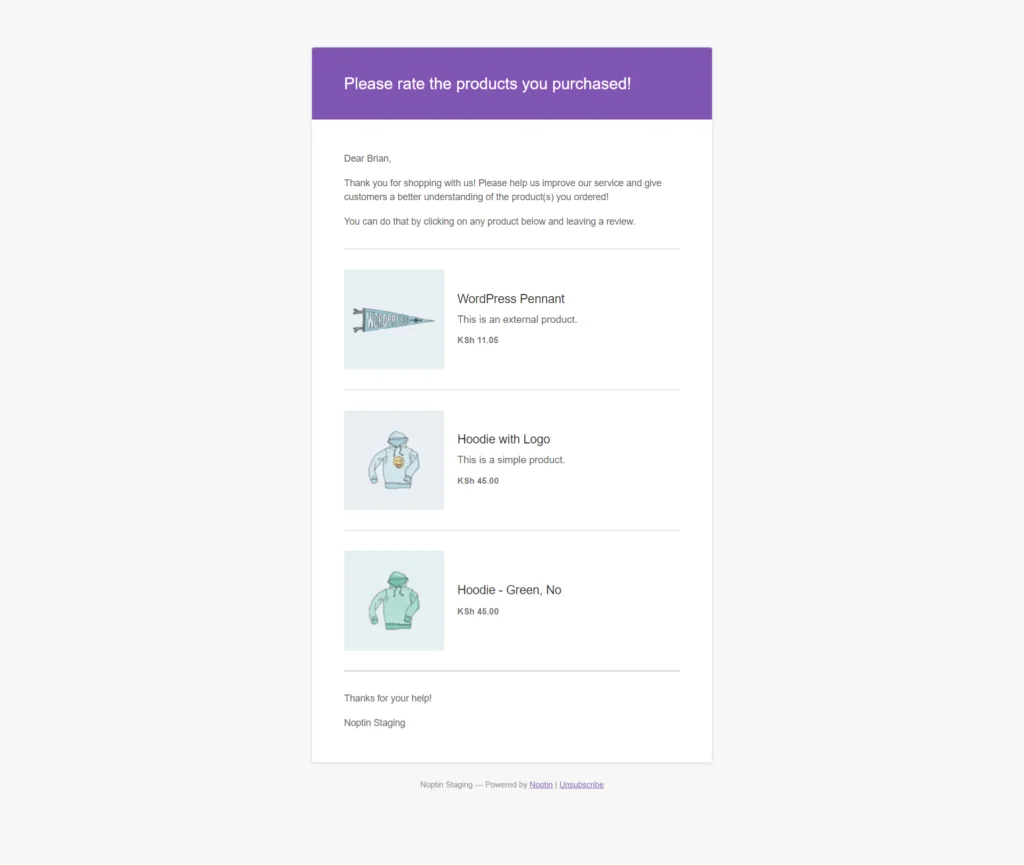 Prerequisites
To follow along with this tutorial, you need to install at least version 3.0 of WooCommerce (Free) and the latest version of Noptin (also free).
Noptin is a free and lightweight WooCommerce email marketing automation plugin. It can help you save time and make more sales at the same time.
Step 1: Create a new automated email
The first step is to create a new automated email.
To do this:-
First, log into your WordPress admin dashboard then click on Noptin Newsletter > Email Campaigns to open the email campaigns overview page.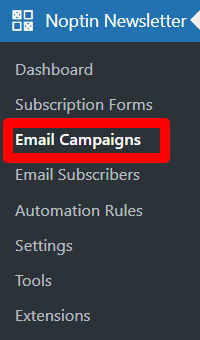 Next, click on the Automated Emails tab at the top of this page to open the automated emails section.

Finally, click on the New Campaign button then select the type of campaign that you wish to create.

Triggers
Depending on when you wish to send the review reminder email, you can either set up an "Order Action" email or a "Product Purchase" email.
Order Action – Select this if you would like to send a review request email for all products in your WooCommerce store.
Product Purchase – Select this if the email should only send for a specific product.
Step 2: Set up the review reminder email
After you create a new automated email, Noptin will open the email editor.
The editor allows you to:-
1. Set the review reminder email subject. Remember to keep it short and sweet.

2. Provide the email content. You can send a standard email using an email template, a RAW HTML email created using a drag-and-drop builder, or a plain text email.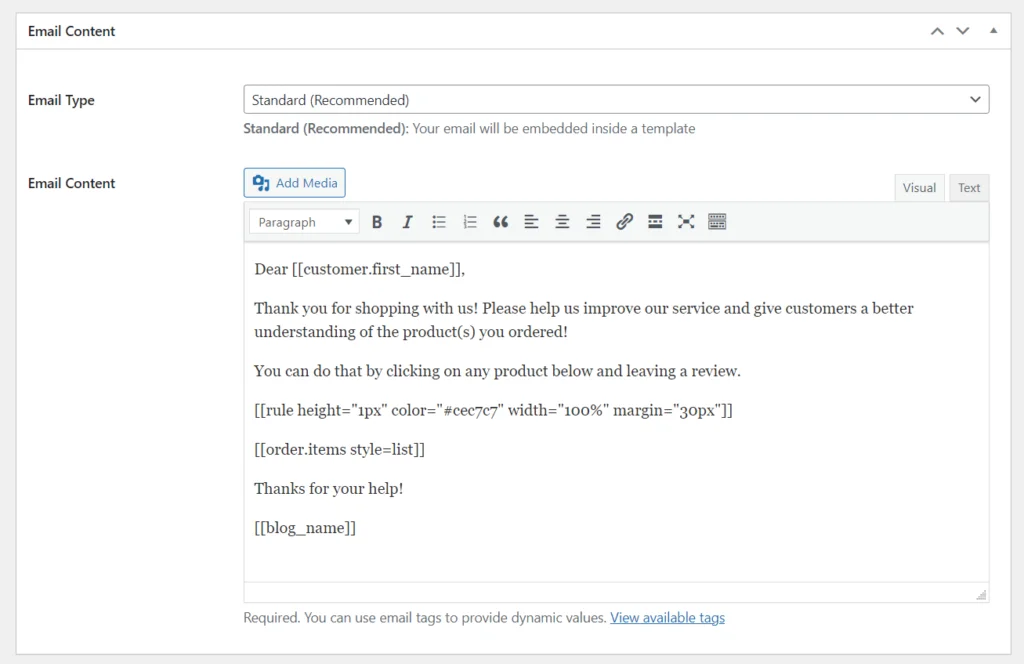 3. Set the email template. You can style the review reminder emails to match other WooCommerce emails or use a different template.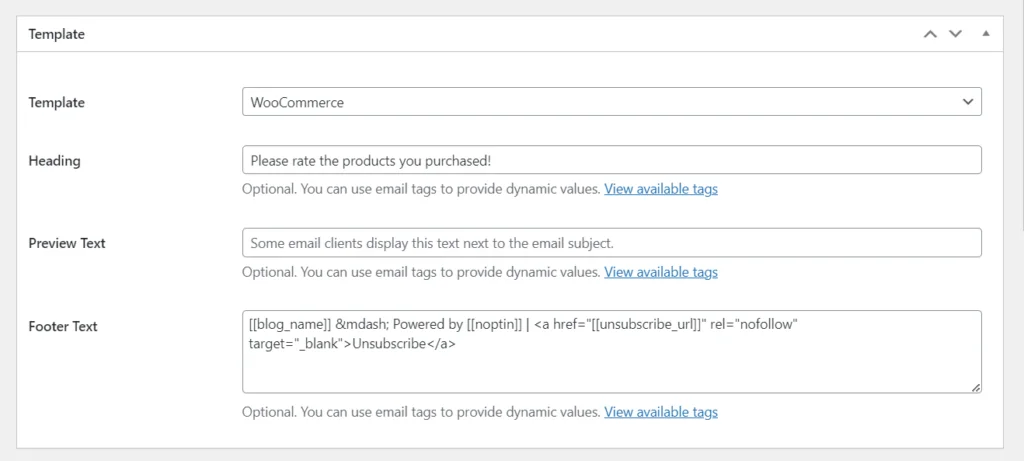 4. Set the email recipient. Use the [[customer.email]] merge tag to ensure that the email is sent to the customer.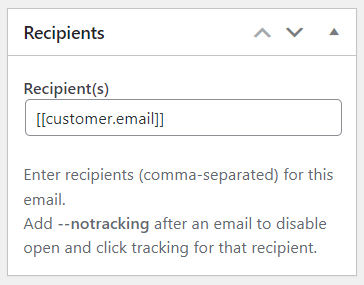 5. Select the email timing. You can set the email to send out as soon as there's a new order, or delay it for a given number of minutes, hours, days, weeks, months, or even years.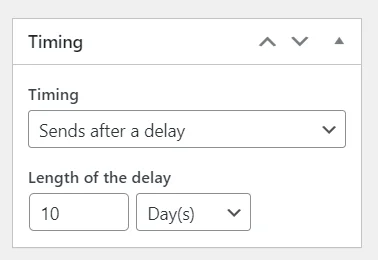 6. Save the WooCommerce review reminder email. You can also set the email to only send out to new customers as well as send yourself a test email.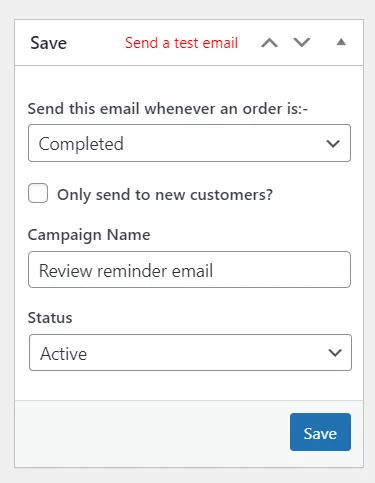 Bonus 1: Tips for writing great WooCommerce review reminder emails
Here are some tips for writing a successful review reminder email:
Be Clear and Concise: State the purpose of the email in a clear and straightforward manner. Use simple language and avoid using jargon.
Personalize the Email: Use merge tags to personalize the email with the recipient's name and other order details.
Use a Friendly Tone: Use a friendly and polite tone in the email. Avoid using a confrontational or aggressive tone, as this may discourage the recipient from writing a review.
Provide a Call-to-Action: Ask for a review in a clear and specific manner, and make it easy for the recipient to follow through by including a link to the products.
Offer an Incentive: Consider offering an incentive, such as a discount or a free product, to encourage the recipient to write a review.
Provide a Time Limit: Let the recipient know that you are following up on a specific time frame. This creates a sense of urgency and increases the chances of a prompt response.
Thank the Recipient: Express your gratitude for their business and thank them for taking the time to write a review.
Test and Optimize: Test different versions of the email to see what resonates best with your audience and make changes to improve response rates.
Bonus 2: Sample product review reminder email
Below is a sample WooCommerce product review reminder email.
Dear [[customer.first_name]],

Thank you for shopping with us! Please help us improve our service and give customers a better understanding of the product(s) you ordered!

You can do that by clicking on any product below and leaving a review.

[[rule height="1px" color="#cec7c7" width="100%" margin="30px"]]

[[order.items style=list]]

Thanks for your help!

[[blog_name]]